This appeal is from Stopthedrugwar.org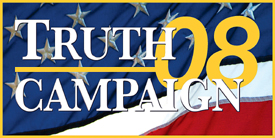 You've probably heard of Timothy Garon.  ( if not scroll down to 5 /2 / 08  to read more on Timothy)
He's the musician who died recently because he was denied a liver transplant for having used marijuana prescribed by his physician.
You've probably also heard of Rachel Hoffman, a young college grad who was coerced by police to act as an informant after she was arrested for marijuana possession. She was killed by drug dealers following a botched drug sting.
You may even know someone personally whose life has been turned upside down — or worse — because of our country's deplorable drug policies.
Because of extreme situations like these and countless daily injustices, it's time to ramp up efforts to end the Drug War and prohibition.
That's what the TRUTH 08 CAMPAIGN is about and why I'm asking you for support.
The Truth 08 Campaign is a multi-pronged strategy from StoptheDrugWar.org to educate more people about the Drug War and to:
Expand StoptheDrugWar.org resources so more people can get online, read Drug War Chronicle (the world's leading drug policy newsletter), participate in Speakeasy blogs and take immediate action through our Alerts and Latest News postings.
Bring more elected officials on board through targeted lobbying efforts.
Empower more grassroots organizations by giving them the tools, materials and exposure they need to strengthen the drug policy reform movement.
Reach out to local and national media with the "other" side of the story — prohibition does more harm than good.
There is no better time to open people's minds than during this election year when almost everyone is focused on change. As people are taking a long, hard look at the policies that are NOT working in this country, the TRUTH 08 CAMPAIGN will prove that the Drug War should be included at the top of that list.
Your help is needed to capitalize on the tremendous progress we've already made getting the TRUTH out: this past year over 140,000 people each month visited StoptheDrugWar.org — that's a lot of visitors.
Several months the number of visitors topped 180,000 and the trend is continuing upward. We are very excited about the new campaign and the new momentum we're generating.
If you wish to donate please contact :-
David Borden
Executive Director, StoptheDrugWar.org (DRCNet)
News & Activism Promoting Sensible Reform